Ipswich and Bury St Edmunds BF Joint Open Silver Show 2021
The club committee had discussed a proposal made by Ghalib that the Ipswich should join BSE this year in a joint show and that it had been decided that this was a good idea and that the joint show will go ahead at Great Blakenham on 25th September.
The show went ahead as planned and was well attended. All those who exhibited and attended agreed it was well planned and executed.
Ipswich members arrived at the venue Friday evening to set up the hall for the following day.
The following morning the venue was open for business. Over 300 from 21 exhibitors. Entries were received and processed. The judges arrived and the judging began
Judges Ronnie Simpson,Ron Pearce and Nigel Beevers
Most members had a job to do from show manager to steward
The back room staff

Bill Hewitt in his usual role

Ghalib the Show manager

Sue Boyes Catering

Sandra Stevens

Bill and George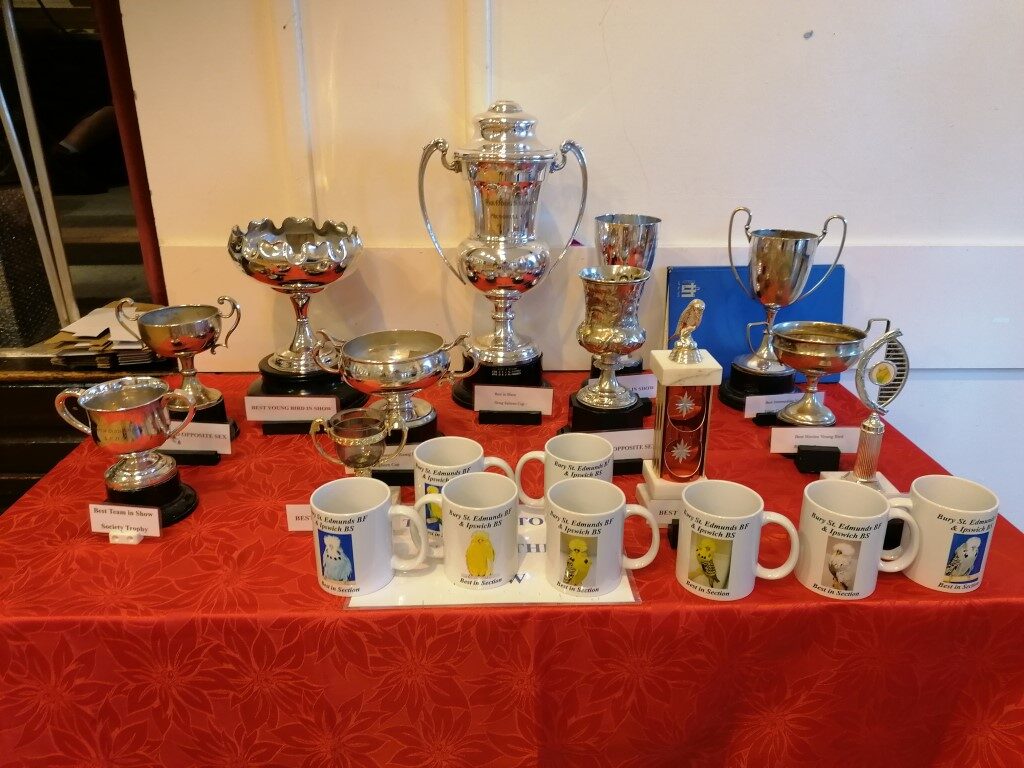 With the judging complete the Best in show and other major awards were decided as follows…..
Best in show a Cock Albino

Best in show a Cock Albino

Ghalib and Janice Al-Nasser ( Best Champion)
best in Show
Best Young Bird and Opposite Sex Any Age

Lutino Cock

Mark Banister (Best Intermediate) Best Young Bird and Opp Sex
Best Opp Sex Any Age hen Lacewing

Best Opp Sex Any Age

Mark Banister Best Op Sex
Sky Blue Cock (best Champion young bird) Best Op Sex Young Bird

Bill and Steve Squires
Colin Harvey Best Novice Any Age

Violet Cock
Dark Green cock

Best Novice Year Bird

Colin Harvey Best Novice Any Age
Eliza Thorp Best Junior Bird

Cobolt cock
Team of Lutino

Team of Sky Spangles

Winning team of Grey cocks (Al-Nasser)
A selection of the colour winners and Spotted birds