January 2018 Meeting (AGM)
Please click below  to download audio of  first session
Please Click below to download audio of second session
PLEASE CLICK ON THE BELOW LINK TO DOWNLOAD A COPY OF THE 2017 AGM MINUTES
PLEASE CLICK ON THE BELOW LINK TO DOWNLOAD A COPY OF THE 2018 AGM AGENDA
PLEASE CLICK ON THE BELOW LINK TO DOWNLOAD A COPY OF THE EVENTS CALENDAR 2018
Ipswich Budgerigar Society Events Diary 2018 (1)
The Annual General meeting was held this month.
The turn out was a bit disappointing with only 17 members present .
Members that attended
Andy Harvey,David Rafis,Brian Mclelland,Geoff Murrells,Peter Stevens,Bill Hewitt,Bill Squires,John Gibbens,Darren Dunnage George Mcmillan,Marion Chapman,Sandra Srevens,Susan Boyes,Derek Lungley,David Wyatt Josefina Zenser
Two new members David and Josefina were welcomed this evening.
Apologies were given for..
Ghalib Al-Nasser,Janice AL-Nasser,Dave Stephenson,Graham Barton,Martin Frost,Alan,Richard Mann,Steve Squires,Alan Baker,Sandra Holden. Brian Boyes
The Society President Sandra Stevens opened the AGM and made her report.This report is attached below.
George McMillan the Vice Chairman continued  the meeting.( Graham was unable to attend due to a prior commitment) George read out  the chairman's report,Graham stated that he was standing down as the Chairman.His report is copied beow
The general Secretary John Gibbens then gave his report. He stated that due to heavy commitment this year he would prefer not to stand as the secretary but would continue on the basis that he will not be at some meetings if no one else wished to stand. His report is attached below
The treasurer  Sue Boyes then made her her report. The club funds are in a good healthy state.
The Show Manager George McMillan  made a verbal report and stated that the two show he managed were well supported and thanked everyone for their assistance.
The Patronage Secretary was not present his report was read out and is available to view below
Publicity Officer – Davis Rafis then made his report which is attached below.
Social Secretary – Sandra Stevens made her report which is attached below
Election of Officers.
The following Officers were elected (all uncontested)
President – Sandra Stevens
President Elect – Steve Squires
Chairman – Bill Squires
General Secretary – Brian Boyes
Treasurer – Sue Boyes
Show Manager – George McMillan
Show Secretary – Peter Stevens
Publicity Officer – Davis Rafis
Social Secretary – Sandra Stevens
The Officers as elected
from left to right Bill Squires (Chairman) Sandra Stevens(President and Social Secretary) George McMillan (Vice Chair and Show manager)David Rafis (publicity Officer) Peter Stevens Show Secretary) Sue Boyes (Treasurer)
Absent Steve Squires (Patronage Secretary) Brian Boyes( General Secretary)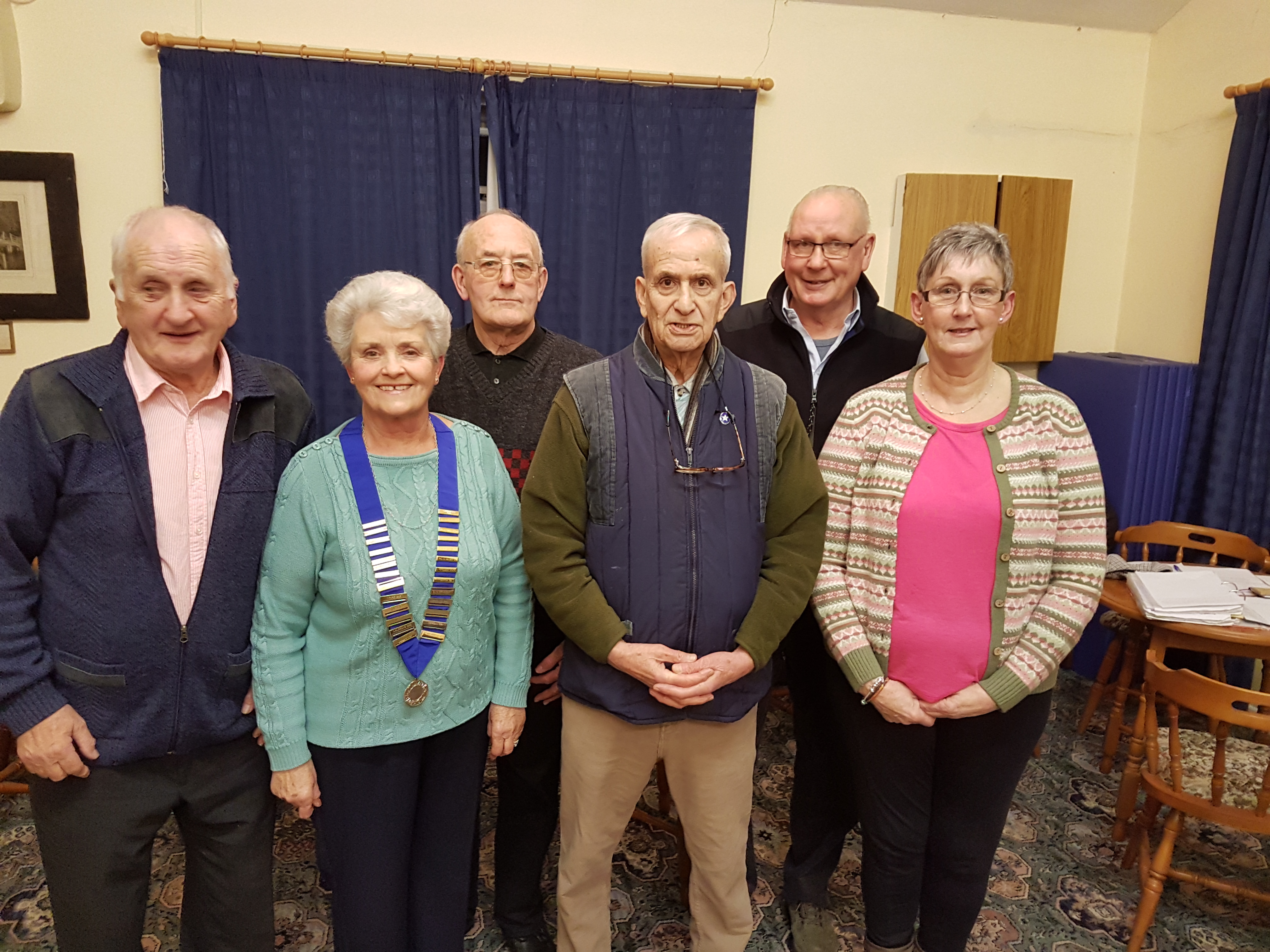 Subscriptions – to remain the same as this year
Member of the year award – John Gibbens was proposed and the members unanimously agreed that he should be awarded the member of the year trophy.
John Gibbens being awarded the Member of the year trophy by Sandra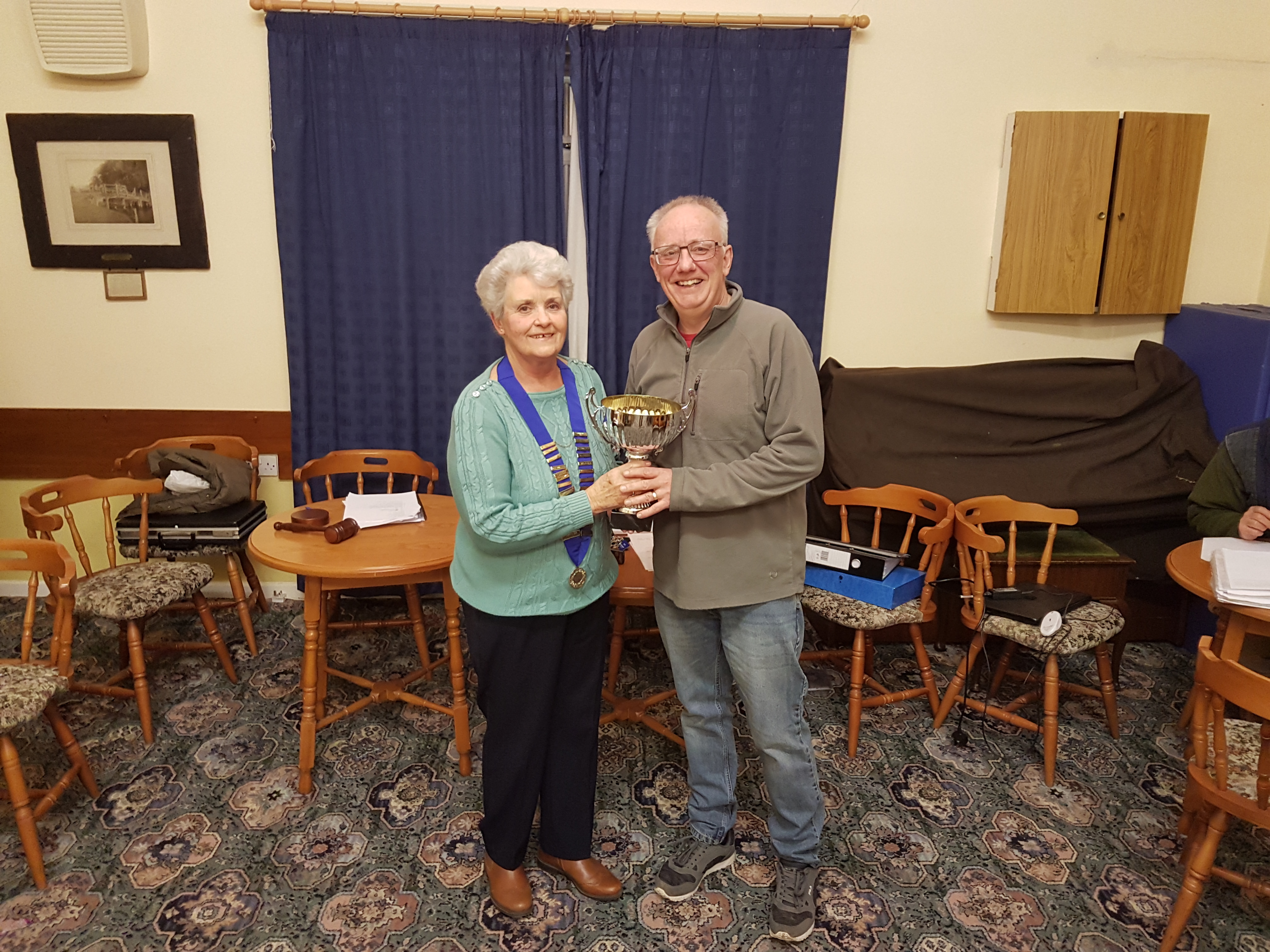 Any Other business
A. The distribution of the prize money for the 50th Open show was discussed. It was agreed that this decision would be deferred pending any sponsor ships.
B. Trophy to be obtained for the yearly colour competition.- Bill stated that he had a spare trophy that can be used.
C. Lapel club badges. Cost was to be in the region of £300. The members present felt this was too expensive so not agreed.
D. Country wide sponsor ship of the Open show – Peter stated that it was likely that the company would provide 5 x bags of seed that could be used as prizes.
There was a general discussion about other matters including the updating of the bank accounts and mutual show patronage with other clubs.
Geoff Murrells stated that he would like to donate £40 for the best Breeder Bird in the Open show
After discussion it was decided that the following prize money will be given for the Yearly colour competition as follows – £15 winner,£10 second for Champ/Int and Beg/Nov and £10 overall winner.
Peter stated that any members that wanted to take part in "Peters Swindle were to contact him before the end of next week with their ring numbers.
Bill then concluded this months meeting
President (Sandra Stevens) Report
Chairman (Graham Barton) Report
Unfortunately, I am unable to be with you this evening; I am sitting in a theatre with friends enjoying
the repartee of a good comedian.
2017 was industrious for the club, we embarked on delivering an additional show, The LEA Specialist and Rare not happy with just delivering an admirable show, and we endeavoured to enhance the breeder and exhibitor experience by providing an afternoon seminar and question session.This achievement has to be credited to our dedicated team of members, which work tirelessly to deliver not just this event, but also all the social events we hold over the year. Our thanks have to be extended to our friends from the hobby and other clubs that continue to support Ipswich. Our other events were equally successful and continue to provide our members with a varied array of social events, that they and their families can enjoy. The visit to tropical wings was a nice relaxed day out a last chance to see the collection before the venue closed later in the year. Our B.B.Q was a much a success as always, and we have to thank Sandra and Peter for being the main organisers of this event.
This year we have arranged what I believe to be a good programme of events and we have tried to encompass all our members' interests.
It is time I feel to step down as your chairperson, I have a busy year planned with work and home commitments, and knowing that last year I struggled at times to keep a focus on the club and its affairs. I wish my successor all the best and hope they, with such a loyal band of members, as I have found can continue to develop and enhance the club.
I will not be too far away, and intend to keep working hard from the side lines.
My Sincere thanks to all the members for their positive input to the club and long may this continue.
Graham Barton
General Secretary (John Gibbens) Report
General Secretary's Report 2018
This is the end of my first year as General Secretary. And only my second year as a member I have had no previous experience of any club positions. Last year I had a very bad season with over 80% French moulters of which most had a fatal conclusion. This year I started breeding in October and so far only one FM out of 75 chicks. I doubt that I would have continued into a further year had I had the same experience as last year. The French moult survey that I created and distributed has been very disappointing with only 3 returns from over 30 printed out and available to complete on the web site . On that basis I have suspended any further participation. Last year we had to my knowledge seven new members that had joined the club, these do not include those persons that joined for the show.
The club made a number of acquisitions which included a decent wireless printer, Dictaphone recording equipment and wireless microphones for the sound system.I believe that my best contribution to the club has been the new interactive club web site. For little cost we now have a site that is available to view from all round the world. The site is updated every month after our meeting with pictures and details of the meetings. I have visited some members at their homes to take pictures of their setups. I still have a way to go to visit all the members but hope to by the end of this year.  I do not make monthly minutes as I see no need for them in this modern world. All the available details are clearly to be seen on the site and readily available to all those members who have access to the internet.
Regular updating emails are now sent out to club members. However I rarely receive any reply or feedback from our members. Which can be disappointing especially if seeking ideas for future events etc?.The club has had a good year with two very well run shows that involved a lot of work from most of the members. For this club to continue and thrive into the next five years it will need to move need to be more modern in its approach. We have seen some new members this year. Attracted by the web site and other members. I believe that we most endeavour to keep these members by spending more time talking and enthusing about our hobby and less time worrying about rules and regulations which is a big turn off for younger members. New members want to see birds and talk about birds. Hopefully this years programme will go a way to address this.
If I was to be perfectly honest I took on the role because no one else would.  I would prefer not to do the role again next year. My wife and I are now both retired and we plan to travel around on a ad hoc basis. This will preclude me from attending some meetings. And will probably give the impression of lack of interest in the club that I do not want to portray that image. If no one else wants to step forward I will continue in the role as secretary. However there will have to be some caveats. I would suggest that a membership secretary be appointed who can perform this role when I am absent. I am happy to continue updating the web site but someone else will have to take notes and photographs that can be forwarded to me by email when I am absent.
Patronage Secretary (Steve Squires) Report
" This was my first year as Patronage Secretary and so took a little time to get up to speed with the process but I can report that in 2017 we managed both the Patronages for the Ipswich BS Open Show as well as the Lincolnshire and East Anglia Specialist and Rare Variety Open Show.
All patronages were submitted on time and although I had to chase one or two societies for their patronages all were received in good time for the respective shows.
 Regarding the Ipswich BS Open Show we submitted 11 patronages in total. This had a total cost to our Club of            £ 88.98 including the cost of Patronage Returns.
 Regarding the Lincolnshire and East Anglia Specialist and Rare Variety Open Show we submitted 7 patronages at a total cost of £ 52.53 including the cost of Patronage Returns.
 I am in the process of completing the 2018 Patronage Returns for the Ipswich BS Open Show and these will be completed by the closing date of 28th February 2018 "
 I am happy to stand for the position of Patronage Secretary again for 2018 if elected by the members.
Many thanks and Best Regards
Steve
Publicity Officer (David Raffis) Report
Social Secretary (Sandra Stevens) Report